Fashion Rocks ™ presents the World Premiere Performance of Elton John's new album on the AT&T blue room!!
AT&T will air a world premiere broadcast of Elton's performance on Sunday September 10th at 7pm from their blue room which can be seen at http://blueroom.att.com/fashionrocks. Please help us spread the word about this magical event by posting the news blurb and web banners that can be found below. Thank you for your support of Elton John and his music, and I hope you will enjoy the broadcast as much as I will!

"If you can't wait for Elton John's new album The Captain and the Kid to hit stores on September 19th, then join the club! However, Fashion Rocks is teaming up with the AT&T blue room to present a world premiere Elton John Performance on Sunday, September 10th at 7 pm et ONLY at blueroom.att.com. The broadcast will give fans the opportunity to experience the magic of Elton John's new album from the comfort of their own home. Head over to
http://blueroom.att.com/fashionrocks
at 7pm et/4 pm pt on Sunday, September 10th to watch Elton John in this exclusive world premiere performance."

Elton John joins Tony Bennett on Tony's 80th birthday celebration disc, from Billboard;
Some of the biggest names in music have joined Tony Bennett for his 80th birthday celebration album, "Duets -- An American Classic." The 18-track project arrives Sept. 26 via RPM/Columbia and boasts guest appearances by Bono, Dixie Chicks, Billy Joel, Paul McCartney, Sting, Stevie Wonder, James Taylor, Barbra Streisand, Elvis Costello and Elton John, among others.
--The track list;
"Boulevard of Broken Dreams," with Sting
"Smile," with Barbra Streisand and Pinchas Zukerman
"Put on a Happy Face," with James Taylor
"The Shadow of Your Smile," with Juanes
"Rags to Riches," with Elton John
"The Very Thought of You," with Paul McCartney
"Lullaby of Broadway," with Dixie Chicks
"Cold, Cold Heart," with Tim McGraw
"The Best Is Yet To Come," with Diana Krall
"For Once in My Life," with Stevie Wonder
"Are You Havin' Any Fun?," with Elvis Costello
"Because of You," with k.d. lang and Chris Botti
"Just in Time," with Michael Buble
"Sing You Sinners," with John Legend
"The Good Life," with Billy Joel
"I Wanna Be Around," with Bono
"How Do You Keep the Music Playing," with George Michael
"I Left My Heart in San Francisco" with Bill Charlap

Elton Exp06 In Las Vegas-Oct. 13-15, 2006 @ The Atrium Suites
Oct. 13, 2006 1-5pm
Reception Lunch with Fred Mandel & VIP-EJ Band Members Davey Johnstone & Guy Babylon
Veteran keyboardist, musical director, lead guitarist and songwriter Fred Mandel played a key role in the Elton John band from 1984-1990, contributing to such great albums as Breaking Hearts, Ice on Fire, Leather Jackets, Reg Strikes Back and Sleeping With the Past. As well as performing with Elton at Live Aid and Live in Australia concerts. Fred shares his experiences with us. Plus Q&A with Davey and Guy
______________________________________________________________
Saturday Oct. 14th:
Caleb Quaye: A Voice Louder Than Rock & Roll
Caleb Quaye knew Elton John from day one! Recording, producing and touring with Elton in the early days. He has known Elton longer than any other musical associate. Caleb has just launched his autobiography; A Voice Louder Than Rock & Roll and will provide behind the scenes stories from his new book. Caleb will talk about the early days with Elton, the music, the tours and the albums that launched a memorable career.
Rocket Records-Back in the Day with David Larkham & Hogie McMurtrie
David and Hogie will discuss each Elton John album they designed and provide insight behind the creative process that inspired each one, plus talk about life at Rocket Records
Elton John Jeopardy with prizes : EJAF Auction : Elton Trivia Fest : Lots of Surprises
Take in the Red Piano Show (attendees must acquire their own Red Piano show tickets)______________________________________________________________
Sunday Oct. 15th
Elton Marketplace: Buy, Sell, Trade Elton memorabilia with other fans
Current Elton John Band members will attend to meet, greet & sign autographs
Meet other East End Lights readers as well as new publisher Kevin Bell, writers Jim Turano, Dale Berryhill and Elton collector extraordinaire Alan McCormick
EEL EARLY BIRD REGISTRATION
$200. minus 20 % DISCOUNT
REGISTER BEFORE MAY 31/06 FOR A DISCOUNTED PRICE OF $165.
Hotel Accomodations ( not included with registration fee )
Atrium Suites Hotel has provided EEL with discounts on rooms and has reserved a limited number of rooms for us. You can contact them at: 1-866-404-5286
Travel Arrangements ( not included with registration fee )
You can make your own travel arrangements or contact our travel co-ordinator Stephanie Gaudet of Carlson Wagonlit Travel
416-595-9960 ext: 38
REGISTRATION FORM
Name:____________________________________________
Address: __________________________________________
City: ___________________State_________Zip___________
Phone: _______________________Fax__________________
Email:_____________________________________________
Questions?:
eastendlights91@hotmail.com
or address below;
Make checks payable to East End Lights. and mail to
11-4040 Creditview Rd. P.O. Box 188, Mississauga, ON. L5C3Y8
Canada
Phone: 416-760-3426; Fax: 905-566-7369
Confirmations will be mailed out. All fees must be paid in advance
REGISTRATION LIMITED TO 100 PEOPLE: BOOK TODAY!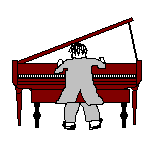 If you see a word surrounded by two stars on each side of the word anywhere on my sites, click on it. You'll find a special message or picture!
National Tour of the Elton John Signature Series Red Piano 2005-2006

At the Touch of a Button, Yamaha Disklavier Treats Audience to a 'Live' Performance by the 'Rocket Man' himself:

2006
2/1 - 2/13 Falcetti Music Center 1755 Boston Post Road Springfield, MA (413) 543-1002
2/10 - 2/19 Fresno Piano 4254 N. Fresno Street Fresno, Calif. (559) 226-0793
2/15 - 3/7 Boston Organ and Piano 54 Middlesex Turnpike Burlington, MA (978) 531-1511
3/9 - 3/27 Darrel's Music Hall 75 Main Street Nashua, NH (603) 886-1748
© 2005 Yamaha Corporation of America. All rights reserved.


Chart debut for Elton's country duet
August 1, 2005

Where We Both Say Goodbye, the duet between Elton and Australian country singer Catherine Britt has entered the Billboard Country Singles Chart at Number 49. This is the first time Elton has appeared on the Billboard Country Chart as an artist.*

Elton first encountered teenager Catherine Britt when he was touring Australia in 2002. He heard one of her recordings, and invited her to meet him backstage in Sydney. Through Elton's contacts Catherine later secured a US record deal with RCA. Too Far Gone is the album from which this single is taken.

*[In 2003 Tim McGraw's version of Tiny Dancer gave Elton a chart placing on the country chart as a songwriter.]

THE MUSIC IS WHAT MATTERS MOST

Your Song
Music by Elton John
Lyrics by Bernie Taupin
Available on the album Elton John


It's a little bit funny this feeling inside
I'm not one of those who can easily hide
I don't have much money but boy if I did
I'd buy a big house where we both could live
If I was a sculptor, but then again, no
Or a man who makes potions in a travelling show
I know it's not much but it's the best I can do
My gift is my song and this one's for you
And you can tell everybody this is your song
It may be quite simple but now that it's done
I hope you don't mind
I hope you don't mind that I put down in words
How wonderful life is while you're in the world
I sat on the roof and kicked off the moss
Well a few of the verses well they've got me quite cross
But the sun's been quite kind while I wrote this song
It's for people like you that keep it turned on
So excuse me forgetting but these things I do
You see I've forgotten if they're green or they're blue
Anyway the thing is what I really mean
Yours are the sweetest eyes I've ever seen
© 1969 Dick James Music, Inc